With The Right Water Garden Supplies, Anyone Can Create A Beautiful Water Garden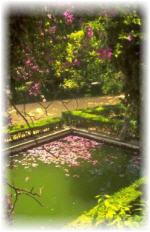 With the proper water garden supplies, you can create the perfect water garden design in no time.
You can enjoy the sounds of water trickling over rocks in a pool brimming with lily pads, fish and flowers as close as your front or back yard!

The Right Water Garden
Supplies For The Job
You'll find many of the supplies you're going to need right in your own garage... a rake, a garden hoe and shovel, for starters!
Add to that a handsaw, hammer, pliers, drill and extension cord. Chances are, you haven't had to buy a thing yet.
Gathering up the remaining water garden supplies simply means a trip to your garden center. Here's what you'll need to get:
Plumbing: Your plumbing water garden supplies are pipes, fittings and valves. These all work together for the water to run smoothly.
Pipes: The most popular piping and tubing for the job are PVC, clear vinyl, black vinyl, and corrugated black vinyl.

Fittings: You have your pipes, now you need to connect them to the water garden pumps and to each other! Size the fittings according to the size and type of pipe used. T-Fittings, elbow fittings and coupling joints are the most used fittings.

Valves: Valves will control the water flow to the water garden.
Water Garden Pumps: These are essential for healthy water gardens. Water garden pumps clean water by forcing it through filters. Your pond water is circulated by the water garden pumps, which then send the water off in the direction of garden fountains and waterfalls.
Filtration Systems: Filters are 'must-haves' on the list of water garden supplies. Decaying organic matter from plants can foul the water. If fish are in your water garden design, keeping a water garden clean is impossible without a water garden filter.
Water Garden Liner: There are two types of liners typically used in water gardens: flexible and rigid liners. Flexible liners are versatile and can be used in ponds of any shape or size. These are a bit more difficult to install. With rigid liners, you pick your shape of water garden design, dig a hole to fit the specifications, and set the liner right into the ground. Usually rigid liners are made of fiberglass or similar material.
Lighting: Set the mood with lighting for your water garden design. Although this is not a "must-have" on the list water garden supplies, it certainly adds a whole new dimension to your garden decor once the sun goes down. Water garden lighting is easy to buy and install as kits.
Water Garden Supplies
Just Add Water!
You can buy water garden kits that contain all the water garden supplies you need! Water garden kits eliminate the fuss of purchasing individual water garden supplies. Water garden kits do stifle some of your creative designing, but you'll be pleased by the creative and delightful designs provided by water garden kits.
Water garden design and building takes some time and effort. Properly planning your water garden design into your overall landscaping ideas is most important. Find out how to create harmonious, beautiful landscape designs, the right way!