Use Lawn and Garden Decor to Revive Your Landscape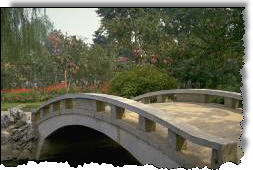 Choosing lawn and garden decor that's not only appealing but also says something about you is a great way to add your own personal signature to your garden.
Settle upon decor that fits the feel of different spots in your garden. There are no rules to garden decor… select the pieces that give your garden the look and feel you want.
Style choices should naturally compliment your home's decorating style... the two most notable styles being the formal garden and the informal garden.
Formal, Please!
Does your home emphasize a formal design? Then perhaps you'll prefer perfectly tailored, sculpted, and orderly flower beds. Straight and diagonal lines planned into your lawn decor give the effect of formality.
Place matching elegant planters on both sides of your walkway. Within your geometric-shaped borders, install graceful garden fountains. Carefully trimmed shrubs accented by garden lighting will add to your overall elegance.
Iron gateways and garden furnishings such as benches and arbors will fit beautifully into your formal garden plans. Always, symmetry and tidiness are the order of the day for formal lawn and garden appearance!
Come as You Are...
With Informal Garden Decor!
An abundance of flowers is the signature of an informal garden. And within that richness of flowers and shrubs, place accessories that fit your pleasure. Lawn and garden decor in the informal garden can be whatever you want.
Birdhouses are a charming asset... hang some in a tree, out of the way yet visible to enjoy. Place pieces of handsome teak garden decor furniture in just the right places, perfect for children to perch on, or to keep the grill master from standing too long.
Add tasteful pieces of lawn and garden decor that visitors can come upon as if by accident, such as a bridge, a wagon wheel or artistic flower containers.
A tasteful garden trellis is a simple way to beautify your informal lawn and garden. Let your climbers and vines wind their way freely along the structure. Adding a garden trellis to your garden decor adds vertical height to your landscape, as well as a comfortable air of permanence to your garden.
Whether formal or informal, garden plans can sound complicated. Yet you can easily create your own garden plans on a very professional scale within minutes if you have the right landscaping software handy!
Got critters in your garden?
Get rid of pests, diseases and disorders
in your lawn and flower garden! Find out how by getting our
free 7-day e-mail course:

101 FREE Money-Saving Lawn and Gardening Tips
...It's on-the-house, from your friends at Lawn-and-Gardening-Tips! Click here!