Plant Gladiola Bulbs For Summer Garden Flowers!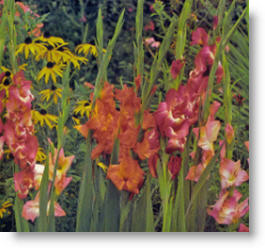 Gladiola bulbs are everyone's favorite for summer gardens and bouquets of cut flowers. And they are so easy to grow! You'll find the spectacular blooms of gladiolas in almost any color you can think of.
Gladiola bulbs, or "corms," are known as tender bulbs and also as summer bulbs. They are less hardy than their spring-blooming cousins, such as tulips and daffodils.
Gladiolas are frost-sensitive, so except for the warmest parts of the country, gladiolas are planted in spring, then dug up in the fall and stored indoors.
Planting Guide for Gladiola Bulbs
Gladiolas like warm temperatures and humid conditions. They can be grown in rows or bunches. The more you space them out, the bigger they will grow.
Plant gladiolas in rich, well-tilled soil, and give them plenty of water. Gladiolas love full sun light; however they will still grow well in partial shade.
Gladiola bulbs bloom two to three months after planting. It's a good idea to set stakes around them at planting time to support the stems as they grow.
If you live in a frost-free climate, your gladiolas can stay in the ground during the winter. If your climate experiences frosty winters, it's best to dig up your flower bulbs for safe storage over the winter. Remember to check your planting zones for best results with gladiola bulbs.
After the gladiolas are finished flowering, dig up the corms and store them in mesh bags or old mesh stockings hung from the ceiling of a cool, well-ventilated room.
Want to increase your growing season? Flower bulbs are triggered from dormancy by time or temperature. If you live in a cold climate, you can get a head start on your garden by potting up your bulbs indoors prior to outdoor planting in the spring.
Gladiola Bulbs Planting Chart
| | |
| --- | --- |
| Colors | Abundant |
| Planting Time | Warm spring months |
| Flowering Period | July - September |
| Average height | 40 - 60 inches |
| Planting depth (to base of bulb) | 4 - 6 inches |
| Spacing between bulbs | 4 - 6 inches |
| Type of bulb | Corm |
| Light requirements | Full sun |
| Landscape uses | Borders and as cut flowers |

Gladiola Bulbs Make Wonderful
Cut Flowers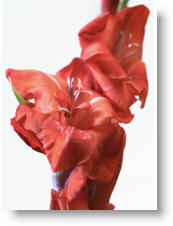 Their colorful, spiked blooms make striking summer garden displays; yet gladiolas are best known as cutting flowers. Their beautiful blooms may be solid or two-toned in all colors except blue, and are accented by sword-shaped leaves.
To have a continuous supply of flowers for cutting, order different varieties from flower bulb catalogs and plant clumps of four or more corms every two weeks.
Tip! How to Make Your
Cut Gladiolas Last
Cut the flowers in the morning when their stems are plumped up with water.

Cut when the first four flowers on the stem open.

Remove all their lower leaves and soak the stems in water at room temperature for two hours before arranging.
Gladiola hybrids have a spectacular color range with many stunning color combinations. As cutting flowers, gladiola hybrids are quite long lasting. Their flower petals can be plain or ruffled, pointed or wavy.
You can easily order your choice of the many varieties of gladiola bulbs from flower bulb catalogs. You'll enjoy watching your summer garden bursting with color!