A Garden Trellis Adds
Just the Right Touch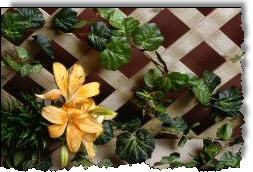 A garden trellis is a wonderful structure for a flower garden. It provides a simple way to increase beauty and create a bit of privacy within your lawn and garden plans.
A trellis lets light and breezes in, and captures the eye as it makes a place for flowering vines to clamber up and about.
Just what is a garden trellis? Simply put, it is basically a ladder for climbing plants. A trellis is any structure made of pieces, usually of wood, arranged in a crossing pattern. You'll find the best garden trellis is often made of teak or cedar.
Get Climbing!
If you've never considered planting vines and climbing plants, you should! They contain a special beauty all their own. When climbing flowers are allowed to grow naturally on a trellis, the entire landscape of your garden changes. Best of all, it's easy to do.
Think of a climbing plant you'd like to try - we've got a good starter list for you to choose from below. One ideal way to choose plants for your trellis is to buy them from your local nursery, especially with perennials. That way you are likely to find vines suited to your climate.
Next choose a garden trellis to support the climbing plant you have in mind. Some vines will grab onto any surface with their tendrils. Other vines are bushier, so you'll need to continuously tie them to your garden trellis. In general, the more delicate the climbing plant, the smaller the open spaces in the lattice work of your trellis should be.
When choosing flowers for a garden trellis you should take into consideration the amount of sun and moisture the area gets. Some good choices of climbing flowers would be:
| | |
| --- | --- |
| Climbing Flowers | Flower Type |
| Black Eyed Susan Vine | Annual |
| Garden Nasturtium | Annual |
| Morning Glory | Annual |
| Climbing Hydrangea | perennial - zone 5 |
Quick Tip! Wisteria is a popular choice, but it can overwhelm a lesser trellis because it is a heavy plant. It should only be planted on a permanent, well-build garden trellis.
Think about how permanent you want your garden trellis to be in your garden plans. If you foresee moving your trellis to a new location at some point, plant annuals around it to make it easier to move. Other than that, simply make sure that the flowers are compatible with your planting zones.
When you're ready to plant, set out the climbing flowers about 5-6 inches away from the trellis. Plant your flowers just as you would normally. Loosely tie the stems of the plant to the trellis with plant ties (scraps of fabric work just as good).
To keep your vines growing upwards and uniformly along your garden trellis, it's a good idea to trim away any stems growing at odd angles. Fertilize the flowers regularly, and keep an eye on your climbing vines. Prune branches and stems conservatively, checking their growth from a distance to be sure you like the look!
Add other lawn and garden decor to enhance your garden trellis, like a garden arbor. These are great for designing an entrance into a section of your yard, or connecting to a wall or a hedge. If room allows, a garden arbor swing will add comfort and charm to any landscape designs.